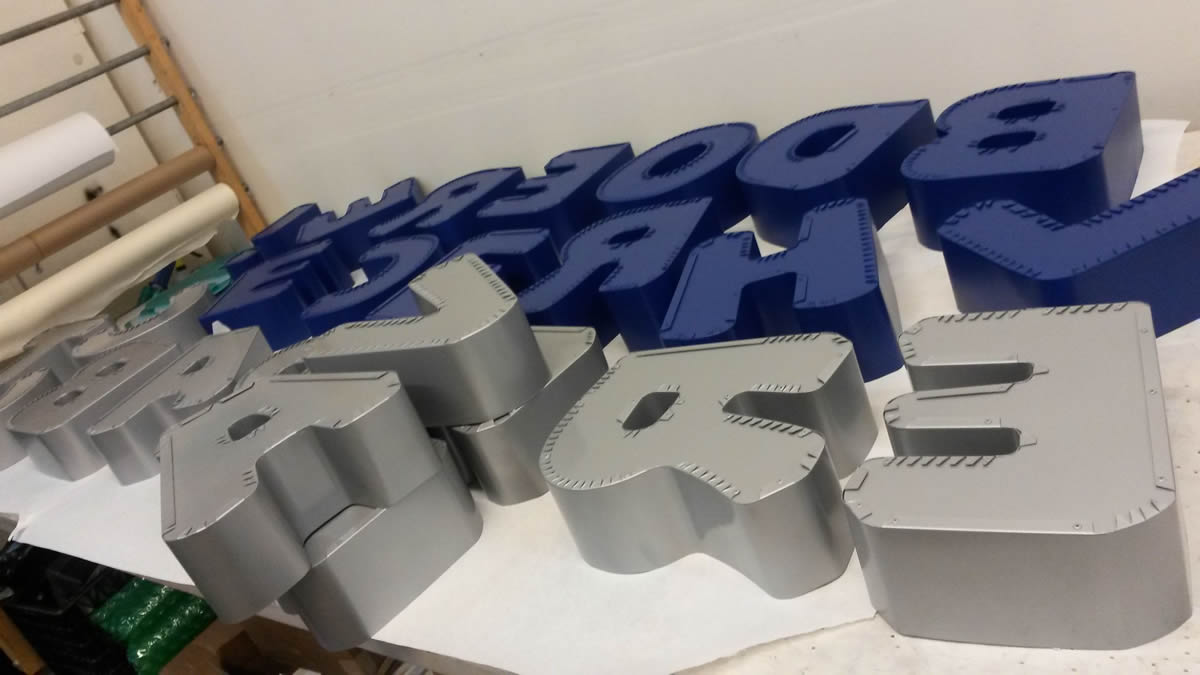 Even when it is a common choice, 3D signs tend to create an uncertain sense between customers. It is a reasonable feeling, basically because if not applied correctly, a 3D sign could easily create confusion and distract potential customers from your main objective. Nonetheless, when used correctly, they are amazing options for indoor and outdoor signage purposes. They are clear, readable, powerful, versatile, and extremely effective when applied accurately. They can be used from business solutions to ADA purposes.
3D Sign Classification
Usually, designers tend to divide 3D sign letters into dimensional lettering and channel lettering.
Dimensional lettering is clear, distinct, and can be used for interior and exterior signs. It is ideal for non-illuminated signs.
Channel lettering is similar to dimensional lettering, but channel lettering is internally equipped to emit a particular lighting effect. Therefore, it is ideal for exterior or storefront signage, as it is visible both day and night.
There are multiple materials that can be used to build 3D signs. The best way to decide the ideal material to build your signage is by considering where is it going to be mounted.
Interior signage
Metals are extremely elegant and excellent indoor signage options. They are attractive dimensional letter materials. They are flexible and handy and can be used for high-quality 3D metal logos. They are excellent choices for lobbies and waiting rooms with long, solid painted, non-decorated walls.
Wooden letters are sturdy, elegant and smooth. They can easily add a level of sophistication to any custom sign. In fact, they are one of the most common types of 3D letters. Wooden 3D signs are great options for lobbies, offices, waiting rooms, or hotel door room numbers.
Outdoor signage
Plastic letters for 3D signs are ideal for outdoor conditions. Plastic is a durable, versatile, cool and manageable. A great advantage of plastic letters is that they can easily be mistaken for more expensive metal letters. They cost less than many other materials and are long-lasting in the outdoors. They can also be illuminated, standing out during night hours.
Metal signs are also ideal for outdoor advertisement, but more expensive. Metal letters are very durable and extremely effective in building branding and storefront signage. They can be found in aluminum, brass, bronze, copper, cast aluminum, titanium, and stainless steel.
As for wood, even though it looks great and it is a very popular option for tourist-related businesses, like beach bars or restaurants, they might not be the best choice. They will need regular maintenance in order to stay shape. It is recommended establishing scheduled maintenance performed by professionals; otherwise, it could wear out in a short time.
If you are considering 3D signage for your business, you can feel confident in your selection. 3D signs are attractive, sophisticated, and elegant, and can be extremely effective when used correctly. However, if you are still uncertain about how to apply them, contact a professional company. The eye of an expert will give you accurate suggestions of how to proceed with your project and selection.