If you've chosen channel lettering for your signage, then you've made a great choice! This style of lettering can be lit up, creating a very attractive design that will draw in customers. There are a few key design tips you should keep in mind when using channel lettering. Whether using them on the exterior of your building or in a large interior space, here are some design tips that will you ensure that your channel lettering looks great.
Choose Design Elements That Will Compliment Your Brand
The number one factor in great signage is branding. You must choose the right font, size, and color to align with your existing brand story. It is very important to maintain continuity between all the visuals in your business. The exterior signage should correspond to the interior signage. These should complement the graphic design on your website and all your physical pamphlets, too. When designing your channel lettering sign, start by narrowing down the key design elements of your brand. If these are present in your final sign, then you're guaranteed to make a good impression.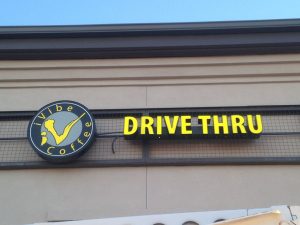 Your sign should also be simple, legible, and tasteful. Over-complicated signs are difficult to understand. If someone doesn't understand what you sell, then they won't bother stopping by for a visit. That being said, don't be afraid to go bold with your signage. Use whatever space is available, and fill the length of your building to mark your territory. You can be simple and bold at the same time. If you want to stand out from other businesses in the area, then bold channel lettering is the way to go.
Ways to Mount and Light Your Channel Lettering to Get the Right Tone For Your Brand
It's important to think about the physical positioning and visual context of your signage before installing it. For instance, will your sign be lit up all night? Does it need to be lit in such a way that it stands out from a busy background? Make sure you're considering the viewer's distance from the signage when designing and mounting your sign. It needs to be impactful, easy to read, and on-brand.
Ready to level up your signage game? Contact Royal Signs to get started.