If business is slow, it may not have anything to do with the quality of your products. Remember, if people don't get excited about your business from the outside, why would they make the effort to come inside? To help your local small business stand out, you might need outdoor signs. An effective sign can stop a passerby in their tracks. With the right colors and design, you can attract people to your business. Sometimes people just need an invitation. Here's what you need to know about standing out in all the right ways.
Choose the best outdoor sign
The quality of your *outdoor signs* is a direct reflection of the quality of your business. If you put out a worn-down sandwich board, then you're telling the world that you don't care about your business. If it's been a while since you purchased new signage, then now could be the right time to invest. After all, everyone wants to support local businesses. Potential customers just need a great sign to explain what you offer and if you're open. Get help with a durable, well-designed sign, and it could make a real difference to your bottom line. All your *advertising products* should be inviting.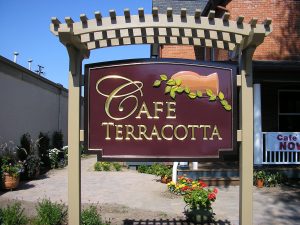 Window advertising
You should also focus your energy on window graphics. Whether it's temporary decals or more permanent displays, your front windows present a powerful opportunity to attract attention. You can switch up the designs each season or stick with a reliable and attractive display. Once you've caught someone's eye with your outdoor signs, you need to seal the deal when they peek into your windows. Make sure you're delighting them with neat, attractive, on-brand window graphics.
Reach out if you're a small business and you need help attracting customers. We're the sign experts and we'd love to help.