A monument sign can make a big impact on visitors. It's a great way to establish gravitas and stand out from other nearby organizations. If you're looking for a sizable installation to represent your facility, a monument sign could be the right choice. To help you decide, here is an overview of this type of signage.
What is a monument sign?
This type of signage is free standing. It has a solid base that is low to the ground. Typically, it's embedded slightly into the earth to add stability. You have probably seen monument signs outside of large office complexes, or even at a national park or near a historic site. A monument sign makes your facility look impressive and professional. It's durable and solid, and gives off the impression that your business has a long history and a prominent future. Of course, it's possible to customize a monument sign so that you stand out from the crowd. Your signage needs to look up-to-date and on-brand.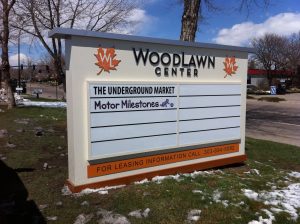 Design tips for monument signs
Our biggest advice for designing a great monument sign is about standing out. It's important to choose a design that contrasts with the surrounding environment. For instance, you shouldn't install a brown sign on a brick base in a complex surrounded by brick buildings. People will struggle to see your sign! Look for shapes, sizes, materials, and lighting that can help your monument sign stand out. Of course, it needs to be on-brand, too. Our graphic designers can collaborate with your design team to select the logo that works best for a monument setting. We can also advise on the type of lighting and placement to maximize attention on the sign.
If you're considering a monument sign for your facility, please contact our team at Royal Signs. We can walk you through the process from start to finish. Get ready to make a statement with your new and long-lasting monument sign!